Join the ning site Bonnie MacAllister created to follow her group's adventures in Ethiopia:
http://ethiopia-fulbright-hays.ning.com/
Just sign up as a member, and you'll receive updates from the participants.
--
From Girls Gotta Run Foundation about Bonnie's trip and another terrific story:
This past Spring, we provided recommendations for GGRF supporter, WCA member and full time Philadelphia middle school educator Bonnie MacAllister in support of her application for this exciting Fulbright-Hayes teaching fellowship program in Ethiopia. She was selected! The group heads out on July 8 for a five week sojourn. You can follow along here:
http://ethiopia-fulbright-hays.ning.com/profiles/blogs/the-program
During the past year, we assisted a brilliant young woman from Occidental College, Kayla Nolan, in designing a proposal to research the benefits of running for Ethiopian girls and women. With it, she won a very competitive fellowship her school offers to students to do summer research projects. She is now visiting, getting to know, and interviewing, in depth, members of all four of the teams for whom we provide some support, as well as learning an enormous amount about Ethiopia in
general. She arrived in Addis Ababa on June 2 and will be there until the end of July. Although the internet is erratic there, she is keeping a blog for anyone who wants to follow along:
http://www.ethiopiaontherun.com/about
--
http://girlsgottarun.org/
--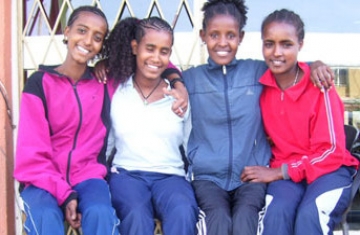 Our coverage in Tadias Magazine:
Because of our Fulbright-Hays, I have been featured by
Girls Gotta Run Foundation
in Tadias Magazine.
http://www.tadias.com/category/events/
About Tadias Magazine: From Their Mission Statement
"We are pleased to introduce you to Tadias Magazine, the leading lifestyle and business publication devoted exclusively to the Ethiopian-American community in the United States. The word Tadias is a popular casual greeting among Ethiopians. It means "hi," "what's up?" or "how are you?"
Founded in January 2003, Tadias is an exciting gateway to the fastest-growing, most affluent, best-educated African immigrant population in the United States.
We serve as a bridge between America and Ethiopia.
Tadias is also a medium of communication for those who have academic, business, professional or personal interest in the Ethiopian-American community.
Most importantly, we highlight the success of Ethiopians in America!"
http://www.tadias.com