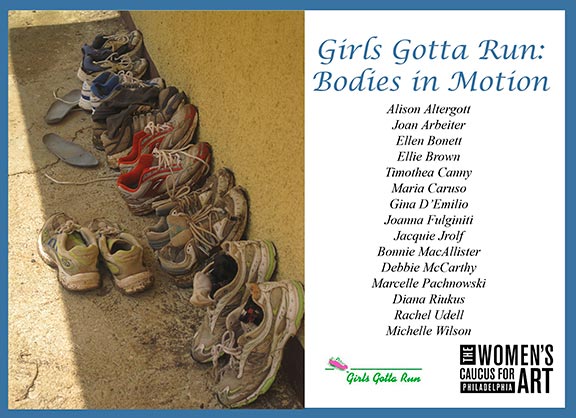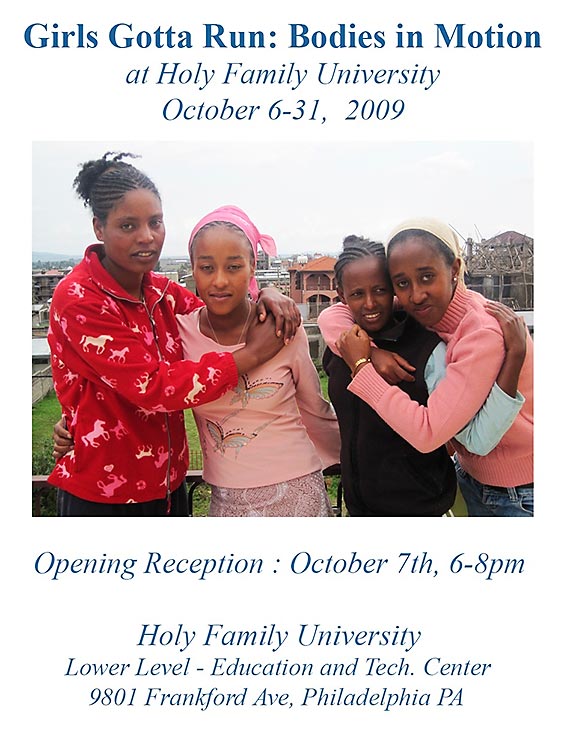 Girls Gotta Run: Bodies in Motion
At Holy Family University
October 6-31, 2009
Opening Reception Wednesday, October 7 at 6-8 p.m.
Holy Family University
Lower Level—Education and Tech Center
9801 Frankford Avenue, Philadelphia, PA
The Women's Caucus for Art (WCA) Philadelphia Chapter has partnered with Girls Gotta Run Foundation to organize the exhibit entitled: "Girls Gotta Run: Bodies in Motion." Curators Pam Flynn and Gina d'Emilio opened space in the art department gallery located in the lower level of the Education and Tech Center at Holy Family University. The exhibit runs from October 6-31, 2009 and features work from fifteen member artists.
The Girls Gotta Run Foundation (GGRF) is a volunteer organization founded in 2006 to raise money to provide support for impoverished Ethiopian girls who are training to be runners. Its founder Patricia Ortman was thrilled to hold an exhibition in Philadelphia after working with three of our members on the Tacoma Park Community Center Show held by the Women's Caucus for Art of Washington, D.C.
Training to be athletes allows the team members to stay in school, avoid early marriage, and gain personal independence. Besides athletic shoes, GGRF provides money for training clothes, extra food ("calorie money"), coach subsidies, and other training-related expenses. GGRF was inspired by the spirit and determination of the girls in the December 29, 2005 Washington Post article written by Emily Wax, "Facing Servitude, Ethiopian Girls Run for a Better Life." She relates not only the tremendous challenges and difficult problems faced by Ethiopian girls, but also how female Ethiopian athletes, especially runners, are serving as role models and inspiration for them. By providing support for these aspiring athletes, Girls Gotta Run gives Ethiopian girls the chance to improve not only their lives, but also their families and communities.
Past president and current WCA blog administrator, Bonnie MacAllister was able to travel to meet one of the Girls Gotta Run teams, "As one of fourteen participants in a Fulbright-Hays award for American school teachers to write the national curriculum on Ethiopia, I traveled to Addis Ababa and its environs to study Amharic language, history, culture, and migrations. Our other participants were extremely excited to meet the GGRF sponsored RAB girls and their Running Across Borders male housemates for a house and school visit at their camp compound. The students were in English class when we arrived. Since the compound was located in Ayat Square, eight to ten kilometers from the Ring Road, we had a little difficulty finding it when we neared, but one of the Running Without Borders student ran several blocks in what must have been one minute to board our bus and show us how to reach the group."
She continued, "We tasted sweet and salty tea, explained our purpose in Ethiopia, and smiled so widely to see the students' excitement reflect from their eyes. We mirrored each other in an Ethiopia shoulder shaking dance and we even told each other jokes that managed to translate from Amharic to English. We learned that the younger students had begun learning completely in English after 8th grade so the language barrier was slightly challenging for some, but we had so many students eager to be translators as well as their English teacher to assist. These young women were so thankful, and they hugged me and my colleagues repeatedly. They smiled with their entire bodies as they embraced me, and I could feel the power in their feet and their minds that drives them to be so successful."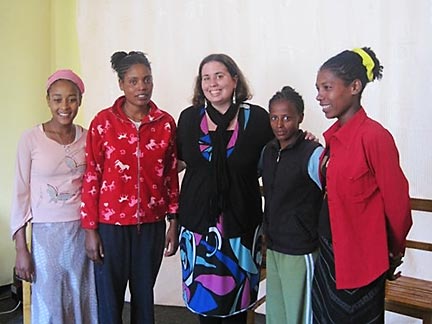 http://patriciaeortman.com/girlsgottarun/runningacrossborders
/ (Click on more photos and Bonnie's story under the photograph of her with the girls!)