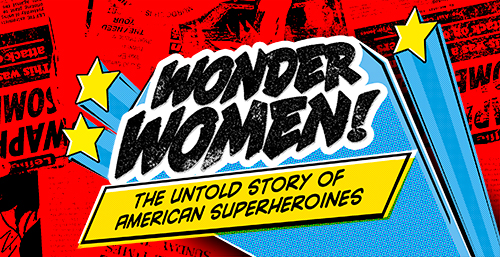 "The film examines the role of superheroines, particularly Wonder Woman and her evolution over multiple decades. The strong woman reflects her time period and the film does well to highlight each change. The editing, flow of the film and even the graphics are very impressive."


-- Toledo Free Press




---





We're getting ready for our big night! Please join the whole Wonder Women! team for our US television broadcast premiere on PBS's Independent Lens series on Monday, April 15, 2013. That's tonight!
You can get involved online. If you're on Facebook, tag Wonder Women Doc in your posts. To do this, go to Facebook.com/WonderWomenDoc and "Like" us. If you're on Twitter, use the #WWDocBroadcast hashtag or @WonderWomenDoc in your tweets. And if you really like the film, here's you chance to give us five stars: vote for the Independent Lens Audience Award. Then join a conversation about strong, wonderful women -- in fiction and in real life -- by posting on the Talkback section of the PBS website.
And don't miss a special online, interactive screening of Wonder Women! on April 24 at 1 pm PT / 4 pm ET, on ITVS's OVEE website (that's Online Video Engagement Experience). Join director Kristy Guevara-Flanagan as she live chats during the screening and participates in a discussion with viewers from around the cyber-world.
Wonder Women! The Untold Story of American Superheroines will be airing on Independent Lens on your PBS station on Monday, April 15 at 10 p.m. (Check your local listings, as time and date can vary by PBS affiliate. Or check here for a complete list of broadcast stations, searchable by zip code.) You can also watch a free stream of the film, for the next month, on the Independent Lens website: look for the link on the right that says "Watch online at PBS video."
Be sure to check out this great new promotional video featuring feminist icon Gloria Steinem, talking about the Independent Lens series, Wonder Woman and the lasting impact the comic book superheroine has had on her life.





You can share the story of Wonder Woman and what she reveals about American society by contributing a copy of the film to your favorite school or library. For information on purchasing a DVD of Wonder Women! for educational use, CLICK HERE.





The filmmakers are available for presentations and workshops on issues involving representation of women in the media, media literacy and critical viewing skills, and empowerment through creating your own media. To contact us, or to learn more about the film, please visit our website, WonderWomenDoc.com.









friend us on facebook


follow us on twitter





---

"If you're like me, or one of the 400 other women mouthing 'Yes, Yes!' during the screening, thenWonder Women! will be candy for your inner feminist." -- Austin Woman Magazine


---