FOR IMMEDIATE RELEASE
Contact: Bonnie MacAllister Patricia Ortman
Women's Caucus for Art Girls Gotta Run Foundation
215.262.9227
phila_wca@yahoo.com
pat@girlsgottarun.org
http://phila-wca.blogspot.com/
http://www.girlsgottarun.org
http://patriciaeortman.com/girlsgottarun/bodiesinmotion/
(For full postcard and images)
Girls Gotta Run Exhibition to be Shown in Philadelphia:
Women's Caucus for Art Member Visits Team in Ethiopia
Girls Gotta Run: Bodies in Motion
At Holy Family University
October 6-31, 2009
Opening Reception Wednesday, October 7 at 6-8 p.m.
Holy Family University
Lower Level—Education and Tech Center
9801 Frankford Avenue, Philadelphia, PA
The Women's Caucus for Art (WCA) Philadelphia Chapter has partnered with Girls Gotta Run Foundation to organize the exhibit entitled: "Girls Gotta Run: Bodies in Motion." Curators Pam Flynn and Gina d'Emilio opened space in the art department gallery located in the lower level of the Education and Tech Center at Holy Family University. The exhibit runs from October 6-31, 2009 and features work from fifteen member artists.
The Girls Gotta Run Foundation (GGRF) is a volunteer organization founded in 2006 to raise money to provide support for impoverished Ethiopian girls who are training to be runners. Its founder Patricia Ortman was thrilled to hold an exhibition in Philadelphia after working with three of our members on the Tacoma Park Community Center Show held by the Women's Caucus for Art of Washington, D.C.
Training to be athletes allows the team members to stay in school, avoid early marriage, and gain personal independence. Besides athletic shoes, GGRF provides money for training clothes, extra food ("calorie money"), coach subsidies, and other training-related expenses. GGRF was inspired by the spirit and determination of the girls in the December 29, 2005 Washington Post article written by Emily Wax, "Facing Servitude, Ethiopian Girls Run for a Better Life." She relates not only the tremendous challenges and difficult problems faced by Ethiopian girls, but also how female Ethiopian athletes, especially runners, are serving as role models and inspiration for them. By providing support for these aspiring athletes, Girls Gotta Run gives Ethiopian girls the chance to improve not only their lives, but also their families and communities.
Past president and current WCA blog administrator, Bonnie MacAllister was able to travel to meet one of the Girls Gotta Run teams, "As one of fourteen participants in a Fulbright-Hays award for American school teachers to write the national curriculum on Ethiopia, I traveled to Addis Ababa and its environs to study Amharic language, history, culture, and migrations. Our other participants were extremely excited to meet the GGRF sponsored RAB girls and their Running Across Borders male housemates for a house and school visit at their camp compound. The students were in English class when we arrived. Since the compound was located in Ayat Square, eight to ten kilometers from the Ring Road, we had a little difficulty finding it when we neared, but one of the Running Without Borders student ran several blocks in what must have been one minute to board our bus and show us how to reach the group."
She continued, "We tasted sweet and salty tea, explained our purpose in Ethiopia, and smiled so widely to see the students' excitement reflect from their eyes. We mirrored each other in an Ethiopia shoulder shaking dance and we even told each other jokes that managed to translate from Amharic to English. We learned that the younger students had begun learning completely in English after 8th grade so the language barrier was slightly challenging for some, but we had so many students eager to be translators as well as their English teacher to assist. These young women were so thankful, and they hugged me and my colleagues repeatedly. They smiled with their entire bodies as they embraced me, and I could feel the power in their feet and their minds that drives them to be so successful."
WCA-Phila Co-President Marie Elcin observed, "As women artists we are constantly negotiating multiple spheres of influence and experience.We are proud to make connections with organizations such as The Girls Gotta Run Foundation, for in working to make an impact on the lives of others in an international context we expand our sense of social responsibility and can find our place as global citizens."
Pat Ortman stressed, "Speaking for myself and the rest of the GGRF Board, our partners on the ground in Ethiopia, and the young women athletes we support, we are enormously grateful to the Women's Caucus for Art of Philadelphia for their efforts on our behalf. We hope the event is a huge success!"
As an official chapter of the National Women's Caucus for Art, the Philadelphia Chapter supports and upholds their mission statement and by laws. In addition, the chapter is committed to creating a support network for women in the visual arts in Philadelphia and surrounding communities. The Women's Caucus for Art Philadelphia Chapter strives to increase awareness and recognition of women in the visual arts through our exhibitions, lectures, publications and other educational programming.
Artists exhibiting in Girls Gotta Run: Bodies in Motion:
Alison Altergott
is the current co-president of the Philadelphia Chapter WCA. She is a printmaker and book artist, and shows her work at Gallery 21 in Philadelphia.
Joan Arbeiter
is an artist, arts educator, and co-author of Lives and Works: Talks with Women Artists Vol 2 (1996). She is a founding member of Ceres Gallery, a women artists' collective in New York City, where she continues to exhibit.
Ellen Bonett
is a Philadelphia native, graduate of Moore College of Art & Design. She is an abstract artist who has shown in several museums, local galleries, and venues.
Ellie Brown
is a photographer and creator of Popsicle Artist Marketing. In her work she explores ideas about family and relationships and experiments with narrative presentations of her themes.
Timothea Canny
is a recent graduate from Moore College of Art and Design where she studied Textile Design. In her work she likes to explore the use of color, texture and pattern within the context of cultural icons.
Maria Caruso
was born and raised in the Northeast section of Philadelphia, PA. She has a BFA from Holy Family University where she also received a Masters Degree in Education with a Level I Certificate in Art (K-12).
Gina d'Emilio
is the assistant curaoti of the Holy Family University Gallery. In her sculptural work she explores the vulnerability of the female as object and person.
Joanna Fulginiti
is an artist and fundraiser for a non-profit social services organization. She holds a B.F.A from Tyler School of Art of Temple University and studied textile design at Philadelphia University. She combines fibers and painting in her mixed media work.
Jacqueline Jrolf
is a ceramic sculptor living in Delaware County, PA. She also teaches ceramics and ceramic sculpture at the Delaware Art Museum. Her work can be viewed online at www.Jrolf.com.
Bonnie MacAllister
is a multimedia artist, author, and educator. She recently traveled to Ethiopia on a Fulbright-Hays award where she met members of the Girls Gotta Run teams and photographed the images for her book, "Women and Children of Ethiopia: Teaching the Human Experience."
Deborah McCarthy
earned her MA at The University of Leeds in the UK, and her BFA and Fifth Year at Moore College of Art and Design in Philadelphia, PA. She exhibits nationally, and has received several commendations for her mixed media pieces, which are in featured in private collections.
Marcelle Pachnowski
is a non-objective colorist working in oils and giclee. She is an artist, arts educator, arts activist, and she is a past national president of the National Association of Women in the Arts.
Diana Riukas
received her MFA degree from the Maryland Institute College of Art.
She has been teaching art in the inner city of Trenton for 16 years. She has earned numerous awards and grants, including a Fellowship from the Geraldine R. Dodge Foundation
and the Philadelphia Cultural Alliance 5-County Fund.
Rachel Blythe Udell
is a sculptor who is constantly inspired by and works primarily with fibrous materials. She lives and works in Philadelphia.
Michelle Wilson
is a printmaker, papermaker, book, installation and performance artist from Philadelphia. Her work examines how narrative interacts with memory, the body, and space.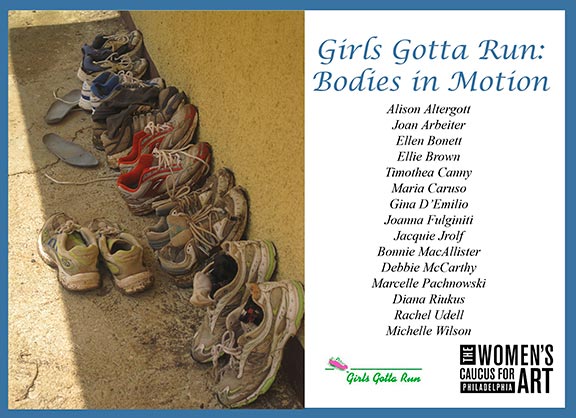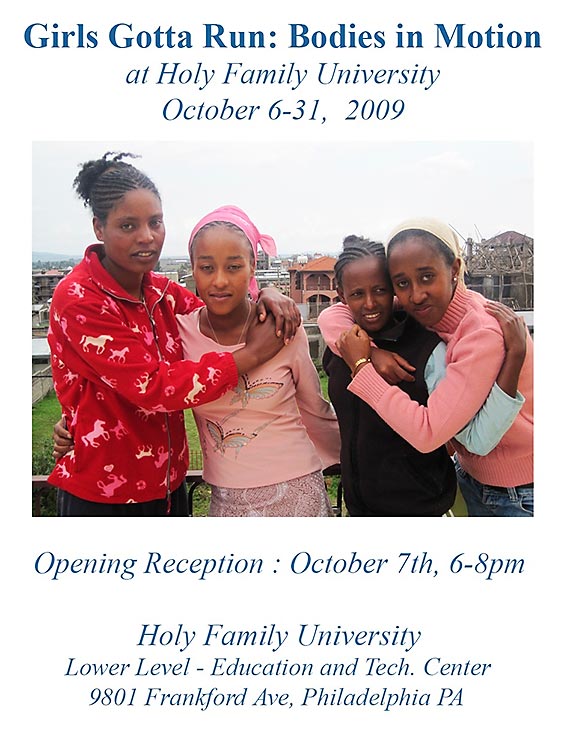 ----
Listing:
Girls Gotta Run: Bodies in Motion
At Holy Family University
October 6-31, 2009
Opening Reception Wednesday, October 7 at 6-8 p.m.
Holy Family University
Lower Level—Education and Tech Center
9801 Frankford Avenue, Philadelphia, PA
WCA-Philadelphia Chapter
http://home.earthlink.net/~philawcamembers/index.html
phila_wca@yahoo.com
Girls Gotta Run
pat@girlsgottarun.org
http://girlsgottarun.org